Happy Fall! FYI that's Fall as in brisk mornings and changing leaves, spooky decorations and bonfires (unless you live in California), hot chocolate and pumpkin spiced EVERYTHING, not "I've fallen and I can't get up!" You're probably too young to remember that particular commercial (lucky you).
After two months of 70 hour workweeks my side gig is finally coming to an end. I have tons of free time, which should mean that I have time to clean, write, catch up on Lucifer and This is Us or just Get Things Done.
Instead I've taken up a new hobby, and I've been spending far too much time drawing (my husband has nicknamed me Simon).
But as Suziespeaks pointed out, it's the final quarter of the year, and the hell that is 2020 is finally coming to an end. It's entirely possible that the new year will bring a fresh level of hell (how many levels did Dante say there were?), but I intend on starting 2021 with a clean slate – and a clean house.
Weekend #1 didn't go entirely as planned. I was going to prep the livingroom for a new coat of paint, but decided to take a daycation at the beach instead. The water was finally warm(ish) and The Girl and I were able to swim and boogie board and search for shells while The Man watched the Sooners get trounced.
Sunday The Girl worked as a PA on a friend's movie and we watched football with socially distant strangers. I was sad. Not because The Girl was working on a movie and I wasn't (that's a lie. I really miss being on set) but because the Chicago Bears forgot how to play football. I'm not sure what they were doing on the field, but I wouldn't call it football (yeah, yeah, I know – the Colt's D is #1 in the league. IDC)….and don't get me started on the Lakers. I mean hellooooo – Jimmy Butler is just one guy. The five of you can't stop one guy? (fingers crossed that tonight goes a little better).
Sorry. This post wasn't supposed to be all about sports, but OMG couldn't just ONE of my teams have won? It's probably my fault that they lost – the universe wanted me to paint.
My point (yes, I have one) is that I want to spend the last quarter of the year Getting My Shit Together.
If you haven't done it by midlife – why start now?
Oh goody, it's the EIC. How I've missed you – not.
(EIC sulks away)
Wow. What a pouty hormonal B (the EIC, not me – although it applies to me as well…and the Girl. Sometimes I feel sorry for my husband – but he can be a pouty hormonal B sometimes too.)
ANYWAY. When I first got sent home (way back in March. April sometime this year) I thought "oh, I can use the time I save not commuting to tackle the garage and give the house a coat of paint" (I'm not sure how much tackling and painting I thought I'd get done with my extra hour/day, but that's not the point) – and here we are, half a year later, and I still need to tackle and paint (which has nothing to do with bait and tackle, but coffee has kicked my ADHD into overdrive).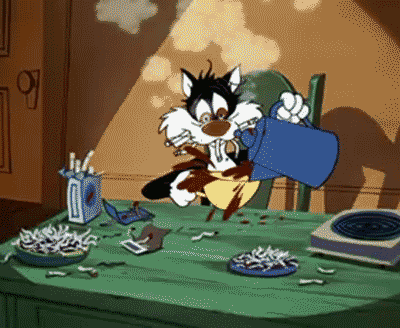 So I am trying to get organized – going through closets and drawers and tossing anything that doesn't "spark joy" – all I have left are a pair of sweats, my supersoft robe, a bottle of wine and a box of chocolates.
I'm also going through files on my computer (not that I have any personal files on my computer, because we've been warned about that)…and I came across a document from eons ago – back when I first started blogging and was trying to "find my niche." I knew that I couldn't be Erma Bombeck (sigh. If only…) but I wanted to help new mothers survive the wilds of suburbia and parenthood with sanity (mostly) intact.
I was having a hard time coming up with a name for my blog, and although I love "Twisting Suburbia – Tales From the Skewed Side" my first tagline was a little darker:
Twisting Suburbia – Putting the F-U in fun, and the FUN in dysfunctional.
I have to admit I'm a little sad that I didn't use this one:
Because I'm a B*tch – confessions from a mediocre aunt and a horrible mother
The document also includes a list of games for exhausted mothers/fathers/siblings/babysitters. The following games should give you 5-15 minutes of "free" time. Time to go to the bathroom, or take a catnap or cry softly while adding some Irish to your coffee:
Hide and DON'T seek

 

The quiet game

 

Statues

(note – never touch/unfreeze the frozen player)
 

Post-apocalyptic planet:

everybody's dead. Dead people don't move. (Please note – this game may be hijacked by older children playing post-apocalyptic zombie apocalypse, but never fear – you can outrun a zombie, unless it's one of those zombies from World War Z)
Full disclosure – I played hide and don't seek with my brother. After about 5 minutes he would come looking for me.
"Why aren't you looking for me?"
"You're such a good hider – go hide again."
He would play for at least 15 minutes, and I know of at least once that he fell asleep while waiting for me to find him.
I tried playing Hide and Don't Seek with my daughter – when I told her to "go hide again" she rolled her eyes and walked away.
So, tell me  – what'cha doing with the rest of the year? How do you plan to "start fresh" in 2021? I'd love to hear from you (and not just because reading comments is better than painting the livingroom).
And for those of you who missed it, here's the Life Call commercial that everyone mocks: