The Daily Post's
daily prompt was a cheat – I changed "focused" to "
focus
". Humans cheat. I'm human (disappointing, I know). Today's
daily prompt
 is a little easier. Or would be, if I could get the words out of my head and onto the
paper
page. It's not as easy as
Neil Gaiman
makes it look (bastard).
Have you ever had a friend answer the phone with "OMG I was just thinking of you?" or attempted to  kill an earworm by turning on the radio only to find the song playing over your speakers? These are just a few of the fairly common occurrences most people chalk up to "coincidence" or synchronicity.
My life has been littered with a string of coincidences. I was working in an office when I decided that I wanted to be a massage therapist instead. Shortly after I made the decision, our office downsized, and I was offered a "buy-out package". The plan paid for my school and  included medical benefits which covered me until the week after I married the man I never would have met if not for a strange series of coincidences which threw us together.
There are those who don't believe in coincidences.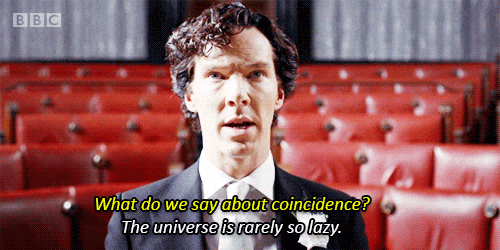 Some people prefer to believe that our lives are preordained, or that a coincidence is merely The Law of Attraction in action.
Others believe that our lives are happenstance – a meaningless string of circumstances directed by the Fickle Finger of Fate (Rowan and Martin's Laugh-In, anyone?)
Call them coincidences, call it synchronicity or simply Fate (tomato, tomahto) – it doesn't matter much to me. I am grateful for whatever brought my little trio together, and for so many other "incidents of happenstance" that Life throws my way.

Mostly I am happy that my series of coincidences aren't as freaky as the ones found here, and that today's internet search on all things coincidental led me to this image:

 I think it's pretty timely, considering all the hatred and divisiveness we've seen lately.

My response to yesterday's