If you've been with me for a while (or even if you joined just recently) you know that I swear – a lot. If this is your very first visit to my blog – thank you for stopping by, and, FYI – I swear a lot.
How much? Let's just say that The Girl's first sentence was "Bite me, 'ackass" (such a proudmommy moment). Before all y'all flame me about teaching a toddler to swear, I was exhausted, hormonal and unaware that my kid was paying attention when I swore at the TV.
I've talked about four letter words before – but most of my posts involve words that won't get you kicked out of church (or school, or work…). Words like "Life" and "Hope" and even the less-than-four letters N-word (no, not that one, didn't you see the "less than four letters"?).
Today's P-word has more than four letters, but it's one of the foulest four letter words I know.
The password is*:
I'm probably dating myself, but when I was young(er) I wanted to be Mary Poppins. She could sing and dance, fly through the air and rescue the fox from a hunt with ne'er a hair out of place. She was always calm, no matter how dire the situation (see the above fox rescue) and managed to look pretty with soot on her nose!
In short, she was practically perfect in every way.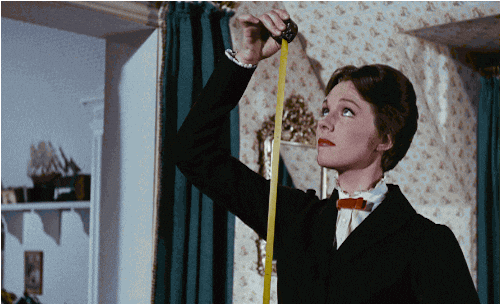 Although perfectionism is classified as a personality trait and not a mental disorder, it is associated with serious mental health problems, including various anxiety disorders. Tanya J. Peterson, MS, NCC says that the "two types of anxiety disorders commonly associated with the belief that nothing is ever good enough are generalized anxiety disorder (GAD) and social anxiety disorder."
I know what you're thinking (because I've asked myself the same question) – "Where's the harm in wanting to do my best?" I hear ya. We should always strive to do our best (unless, of course, you are feeling overwhelmed by all the bad and sad that 2020 has had to offer. In that case, getting up and getting dressed is more than enough. So is staying in your blanket fort). There's a huge difference in "trying your best" and wanting needing to do everything perfectly Elizabeth Scott, MS  explains the difference this way:
Perfectionists are much less happy and easygoing than high achievers. While high achievers are able to bounce back fairly easily from disappointment, perfectionists tend to beat themselves up much more and wallow in negative feelings when their high expectations go unmet. They are also much more afraid to fail than high achievers. Because they place to much stock in results and become so disappointed by anything less than perfection, falure becomes a very scary prospect. And, since anything less than perfection is seen as failure, perfectionists sometimes (or in my case, usually always) put things off until the last minute.
How do you know if you're a perfectionist? I, for one, didn't realize it until my friends and family members pointed it out. I just assumed that everyone worked the same way – that everyone was extremely hard on themselves and that refusing to accept a compliment was perfectly normal (FYI – "Thank you – I rushed through it and made mistakes/could have done better" does not qualify as "accepting a compliment").
For those of you whose friends and family members aren't as brutally honest helpful as mine, Celes has provided a list of signs/symptoms. Here are a few:
There is no room for mistakes.
You have an all-or-nothing approach. You either do something well, or you don't do it.
You are extremely hard on yourself. You're always quick to beat yourself up and feel extremely bad about a mistake for a long, long while.
You constantly spot mistakes when others don't see any. Sometimes these mistakes are real, sometimes they seem self-imagined.
In the interest of full disclosure, I've been struggling with #3 lately. The girl had a minor car accident the other day. Both drivers are fine, and the damage to their cars was minor, BUT (it's a big but) I missed a box when setting up her insurance policy, and our out of pocket will be higher than expected. My friends and family members (including The Girl) have tried to help by saying "everyone makes mistakes" "you've been on survival mode for the past 5 years" and "OMG let it go already" but…I can't stop kicking myself. It's as if I'm extremely hard on myself or something.
So you're a perfectionist, now what?
First and foremost, welcome to the club! I don't know if it will help, but you are not alone – perfectionism is increasing increasing year after year. Second, stop it. I mean it. Stop it right now.
Easier said than done, isn't it? Trust me, I know – I've been a perfectionist for over half a century now (there I go again, dating myself – my husband won't let me date anyone else). I've searched the web for tips and tricks and have come across posts, a step-by-step lifehack and even a few Youtube videos that look promising, but the most important thing to remember is this:
There is no such thing as perfect. 
So go out, do your best, and treat yourself as kindly as you would treat the people who are important to you – and Fuck the P-word.
What tools do you use to deal with perfectionistic tendencies (full disclosure – I re-wrote this question three four seven times).
For those of you who are too young to remember, Password was one of my favorite game shows. Allen Ludden was wonderful, but Bert Convy always made me laugh.